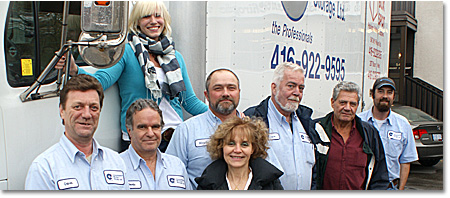 About Us
Consolidated Moving & Storage
and The Box Spot
Founded in 1979, Consolidated Moving & Storage and The Box Spot are Toronto's premier moving and moving supply companies. Over the past two and a half decades, we have shown consistent growth both in the number of satisfied customers served, as well as the range of products and services offered.
Since entering the moving industry in 1966, our family has dedicated ourselves to meeting the moving needs of Toronto's businesses and residents.
The Box Spot
Today, The Box Spot manages two conveniently located retail outlets that can address any moving need you may have: If you have possessions to store or move, we have the professional products / materials to pack it the right way.
Consolidated Moving & Storage
Consolidated Moving & Storage is a full service company offering our clients professional moving, consulting and storage facilities along with two convenient retail outlets. We are specialists in residential, commercial, institutional and estate moving.
Although each relocation is unique in itself, we take pride in the fact that we have done moves as small as one single painting, to a Bedroom Suite, to a Full house (whether local or long distance), to a minus 80 Freezer, to the Heart & Lung Transplant Laboratory, to the Complete Burn Unit from the Wellesley Hospital to their new location at the Sunnybrook Hospital site. This says a little about the versatility of "Consolidated".
We are actually a company that enjoys working in our chosen Industry - and it shows in the services performed.
We make storage easy and affordable:
call us today or request a free consultation.
Clints Testimonials
We did want to get this letter of thanks to you weeks ago, but moving into our home so close to the holidays, and still dealing with deficiencies meant delays in getting to our paper work. We cannot tell you how much less stress we felt with our move because Marvin, Gavin and Ryan were on the job. They were so pleasant to work with and as we fully expected took great care with all of our things, and especially in the newly painted house .... please let the fellows know how grateful we are for their exemplary efforts. Dana and Darrell - Jan 2008