You Pack We Load
You Pack, We Load Your Vehicle, You Drive,
You Unload & Unpack.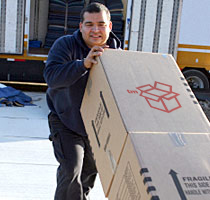 The secret to any successful move is really the way your possessions are pad wrapped and loaded into the moving van, whether it be a moving company van or a rental truck.
You pack, Consolidated Moving then supplies a professional team to empty the house/apartment and load all items into your truck, loading your possessions in such a way that the mirrors are placed in between the mattresses. etc., and larger items tied off (remember if you are going the truck rental route you must ask for a vehicle with tie offs) so that your load gets to the new location without things going every which way should you drive over a pothole. Your friends can be waiting at the new location to help you unload, or, should there be any real challenges with staircases, or furniture items wider than doorways you could arrange to have Consolidated unload as well. There are many options to planning and expediting a cost effective move!
Remember to purchase packing materials from "The Box Spot" and not only will you enjoy free delivery, but receive a further 10% discount should Consolidated Moving be involved in any part of your relocation!

We make storage easy and affordable:
call us today or request a free consultation.
Clints Testimonials
The guys were wonderful as usual & it was so great to see them again. It's almost worth moving again next Spring just so I get to see them. I've given the name of your company to many people. Lynne