You Pack We Move
You Pack, We Move, You Unpack.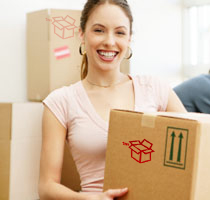 "You pack we move" is the affordable alternative for residential moves.
The "You pack we move" service is ideal for price-conscious, do-it-yourself packers and un-packers who want just the basic from here to there relocation, yet knowing that all furniture items are going to be pad wrapped, loaded, delivered and unloaded properly and safely thus avoiding the chance of damages, should you be just renting a truck and enlisting friends who really mean well, but are not experienced in the little tricks that only a professional mover knows to do the job as quickly and efficiently as possible.
Here you can enlist the friends that do turn up to assist in unloading the cartons, and light items that won't put them in bed for a week after.

We make storage easy and affordable:
call us today or request a free consultation.
Clints Testimonials
I moved this past Wednesday from Toronto to Stoney Creek. I was really dreading the move and anticipating the day from hell. I wanted to take a moment to pass along my thanks to the very professional, competent, polite crew that performed the move. My mom was with me during the move and we were both impressed with not only the competence of the crew but also that they were able to move things so quickly. I expected to be moving until well into the evening but everything was done by 4:30pm. And it was definitely not the day from hell; it was even bordering on pleasant. Again, please accept my thanks and feel free to use me as a reference anytime. Many friends, family and colleagues have been asking about my moving experience and I have been very quick to recommend that they contact you should they know anyone who is moving. Tricia