Commercial / Corporate Moves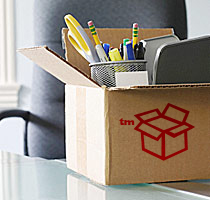 Consolidated Moving & Storage has been earning the trust and confidence of corporate relocation Clients for over 34 years -- and we have earned our reputation by providing exceptional service.
At Consolidated Moving & Storage, we understand that every Commercial or Corporate Client has their own unique moving needs, many of which are dictated by strict moving policies and requirements. We understand relocation decision makers' reputations are on the line everyday and careers depend upon controlling costs and securing the highest quality service available for the best possible price.
Consolidated Moving & Storage provides our Commercial and Corporate Clients with a single source of responsibility; custom moving solutions; dedicated move management representatives; simplified pricing; packing, loading and delivery options, unpacking if required, and a host of additional services.
With Consolidated Moving & Storage at your side you can be sure you have selected a company that will handle the details from start to finish, no matter what your requirements may be.
To arrange for a No Cost Consultation or Quotation, on an Office or Commertial Relocation, Please Contact our Central Office to speak with a Commercial Relocation Specialist.
We make storage easy and affordable:
call us today or request a free consultation.
Clints Testimonials
Thanks for just booking what, by my reckoning, will be the seventh major move by Consolidated for members of my immediate family. It seems timely to acknowledge why we keep coming back to the great company you and your brother Garth founded in 1980. First, the service is comprehensive.

Consolidated has supplied us with countless cartons and a diverse range of packing materials. Your teams have packed scores of fragile items for us. They've smoothly moved big pieces of furniture in and out of three-storey houses with twisting staircases. And they also safely stored a number of our antiques for eight years. Second, the service is superb.

With literally thousands of items packed, stored, and moved short and long distances, not a single thing has been damaged. Moreover, led by Garth and Marvin, the crew members have always been congenial and considerate. Third, the service is very efficient. To new customers, I'd simply say: Don't be fooled by the number of grey hairs on the heads of crew members. It turns out that these veterans know exactly how to move really big items and large loads with minimum risk and maximum speed. In short, Jackie, we are very grateful to Consolidated for excellent help with many transitions. I look forward to seeing the crew again in June.

Best wishes, Dr. David Naylor