Institutional Moves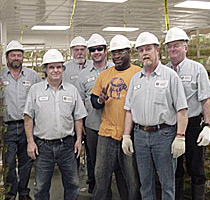 Consolidated Moving continues to service a large Institutional clientele, which continues to expand based on continuous dedicated professional service to both private and public needs. Whether Corporate, or Personal, Research or Clinical, Educational or Developmental, we have the acumen and adaptability to ensure smooth and efficient cost effective relocations and comfort.
Our smaller size caters to that requirement of going the extra mile to ensure mutual satisfaction on more specialized applications. The Client won't get lost in the corporate shuffle (whichever level).
On site inspections identify potential snags prior to relocations, whether internal or external, to ensure all aspects of compliance and safety, courtesy and protocol are met.
These are done by actual representatives of Consolidated, not brokers.
These representatives also see that the jobs are completed by being there on site, from beginning to end; thus enabling Consolidated to provide the Client with the satisfaction of the knowing that what he/she expects will be exactly what he/she will receive.
---
A First for Consolidated
Relocated four optical tables and then assembled and ganged them together for a unique four table setup within the lab for the electrical and chemical engineering department (good thing the building passed the stress test!)
---
To arrange for a Free Consultation and Quotation
on an Institutional Relocation, please contact our Central Office at 416 922-9595.
Clints Testimonials
The move went well.
Please thank Marv, Dave and the crew. They bent over backwards to accommodate this move and I appreciate it.
Regards,
Sandy

...please give your movers a big 'thanks' for the great job of moving and reassembling our office area this morning. Everything was perfect and allowed us to get clinic started at 8:00 AM, right on time!!
Linda

Just wanted to drop you a note to let you know how much we appreciated your assistance in helping us with the move .... You and your team did a fabulous job. The comedic banter - quite entertaining - was an added bonus.
Maria